Minnesota Vikings Cornhole Game


Top 6

Designs!
Below you will find six of our favorite designs of The Minnesota Vikings Cornhole Game. They are in NO PARTICULAR ORDER. Just our top six favorites, from what's offered on the internet. The designs are different, but the game is still the same. A classic! Scroll over any Amazon button for more details. Then, choose your favorite design and call your friends. Game On!
---
# 1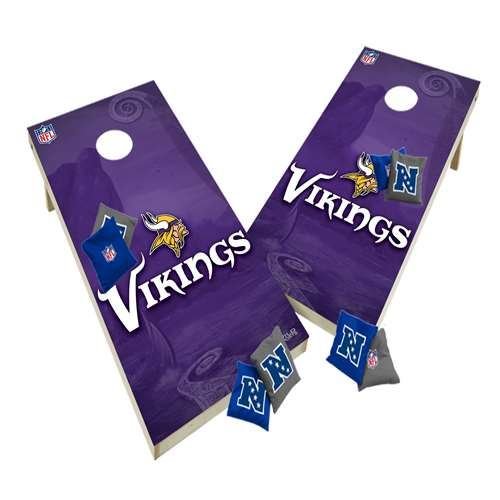 We start off with this cool purple people eater. If you're looking to show off the color of your team, you'll accomplish that with this bad boy. This Vikings cornhole game board is decked out in purple with the teams logo splashed across the center along with the logo. Look for the ocean and Viking ship faded in the background. It's the perfect design for those who are undecided among the many other designs and just want something simple but yet makes a statement. You found it 🙂

---
# 2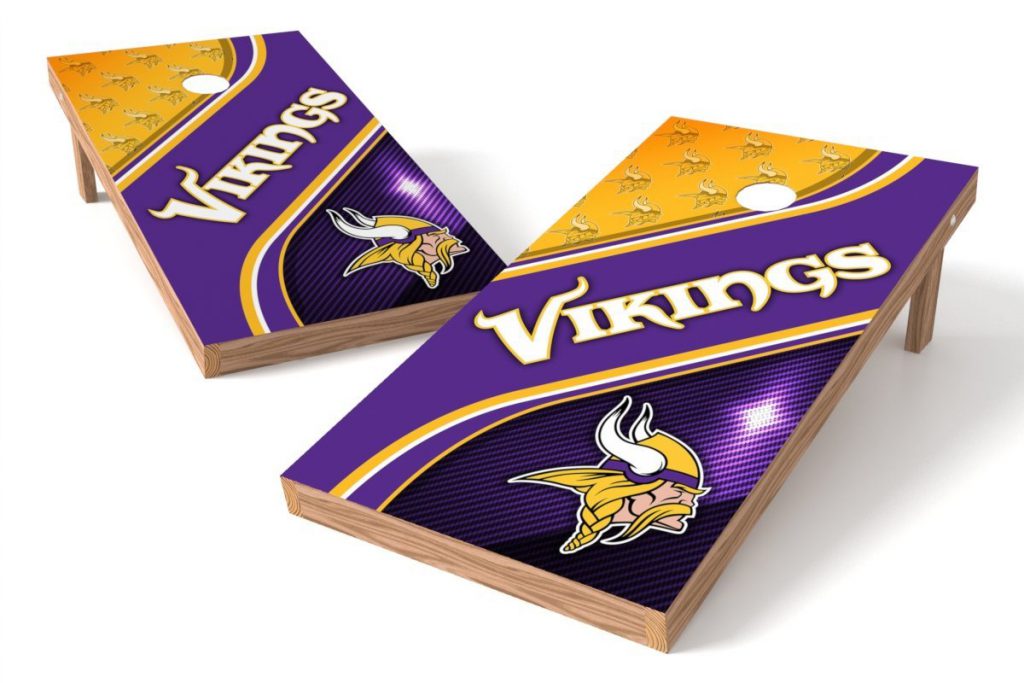 Here we deliver you our second pick and it's a true beauty. Gold and purple dominate these boards and the teams name is BIG. Along with the Vikings logo in the bottom right corner, you'll also find it hiding amongst the yellow background on the upper left of the cornhole board. A glimmer of 'light' shines through right above the head of the Viking, giving it a sleek look. The 'swish' bands of gold, white, and purple running through the center give it a cool flow. There is nothing we don't like about this design. Your friends will envy you, for sure!

---
# 3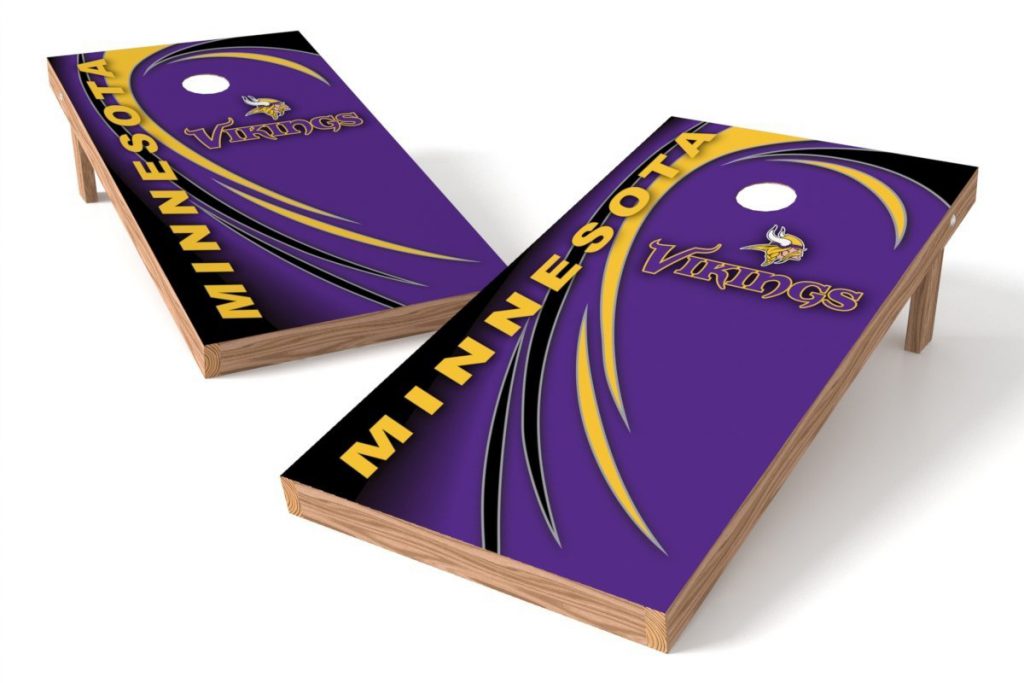 What we have here is something that stands out a bit different than any of the other Minnesota Vikings Cornhole boards that we feature here. We're not even sure ourselves what it is exactly. Maybe it's the splash of the unexpected black among the purple and gold. Maybe it's the 'spiral' design made up of the gold and black lines. Whatever it is, we love it and we know any Vikings fan would too. It's perfect for a tailgate party and is surely different than what we've seen offered, from other teams. Go for Gold! (and purple) 😛

---
# 4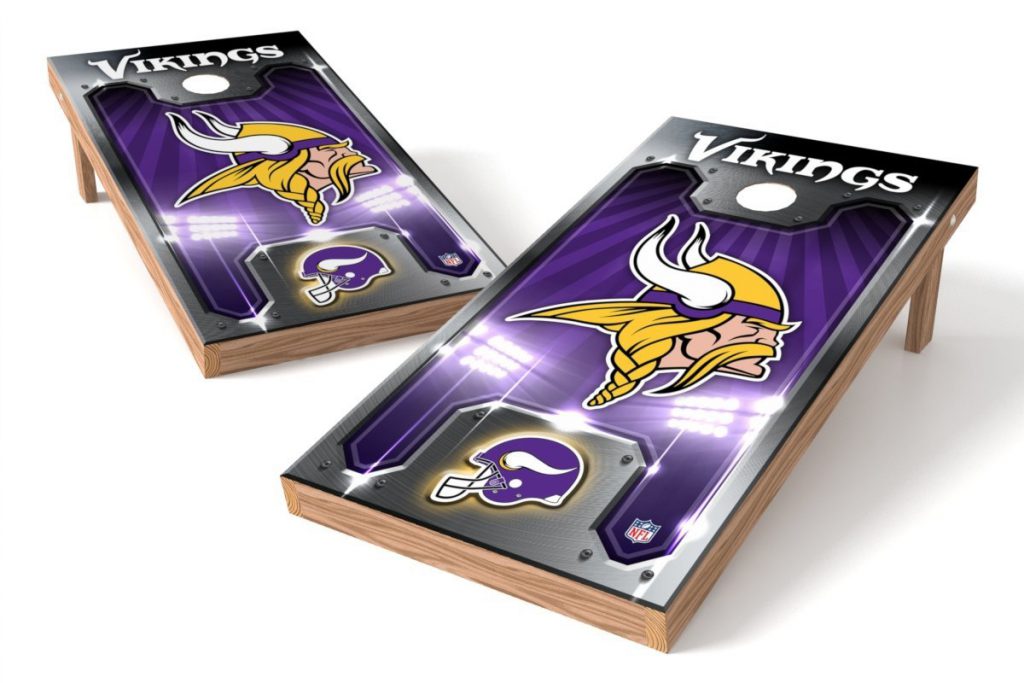 Oh yeah! This is quite possibly our favorite design of all the Minnesota Vikings cornhole game designs we have selected for this page. Although number 5 has a super cool secret. (We'll get to that in a minute) Here we have stadium lights as the background and man, does it look great! The Vikings logo sits front and center as the largest logo of all the designs showcased. Grand and meaning business. On the bottom is the team's helmet and across the top, their name. The edges look to be in steel and glimmer with a few shiny corners. This one is for the man cave!

---
# 5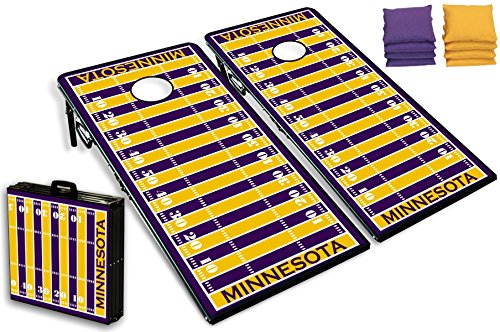 And now for pick number 5. The cornhole game with a twist. Not only do we think this design is cool, with the football field yard lines in purple and gold, but there's something special about it. One of those special designs is the fact that it folds up into its own carrying case. Convenient and light, made of aluminum, unlike the others which are all made of wood. But what REALLY makes this board stand out is that it comes with an optional Bluetooth Speaker! Say what now?? Oh yeah, baby! Sync this thing up with your phone and you have an all in one party to go! It also happens to be one of the cheaper designs as well. You just can't go wrong with this one.

---
# 6
OK, our last but certainly not least of the 6 picks. It's the 'Medallion' design and we think it looks great. Any backyard would be proud to host such a sharp looking bean bag toss design. The Minnesota Vikings logo sits inside the medallion while the teams name stands out in purple against the chrome topped background. A pinstripe runs along the edge of the board, giving it one more dimension to add some class. This board would look great in a sports-themed basement and its ready for the backyard BBQs once the weather clears up! Grab it and call your friends. Place a friendly bet or two, and get this game going!

ALL THE ABOVE CORNHOLE GAMES:
Include Two, 2×4 Game Boards
Licensed shield with the Minnesota Vikings logo
Includes 8 bean bags and instructions
Are you a Minnesota Vikings FANatic? Check out the Vikings Fan Shop on Amazon!